A few updates: Monday February 15th students will be in attendance in person. Thursday February 18th will now be a remote learning day. Friday February 19th will be our observation of Presidents Day. We have a large number of staff getting the second vaccination shot on the 17th, 18th and 19th. We are thin on subs and we would rather plan ahead. We are sorry about this but want to try to keep students in person as much as possible. If this switch causes your family any issues please contact Mr. Heavner so we can work together to make accommodations. Val-O-Grams are due by Tuesday February 9th. Tomorrow's home basketball game versus Hartem will begin at 5:00 pm with JV. The game will be on the Bulldog Broadcasting Network. We kindly ask everyone attending our games to treat everyone with kindness and listen to requests of our staff. We are working hard for folks to come watch their players. If we have too many issues we will ban fans. People have to wear masks in the building. People MUST social distance in the stands. Please do not enter the building more than 10 minutes before your students game starts. Please work with us to make sure we can continue to allow spectators. Please contact the school if you have any questions.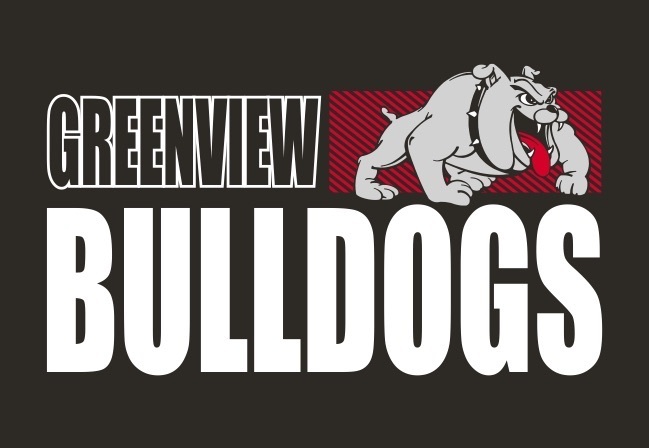 This evening's game with Carrol Catholic in Lincoln has been postponed. Our home volleyball game with a Illini central Is still on. Everyone will enter through the Greenview Elementary doors. Only two guests per player are allowed this evening and we will see you in the gym as people come. If you were coming for a specific game please arrive no more than 10 minutes before the game. When the game is completed and your players done we will have everyone exit the gym. We are excited to get our students playing again.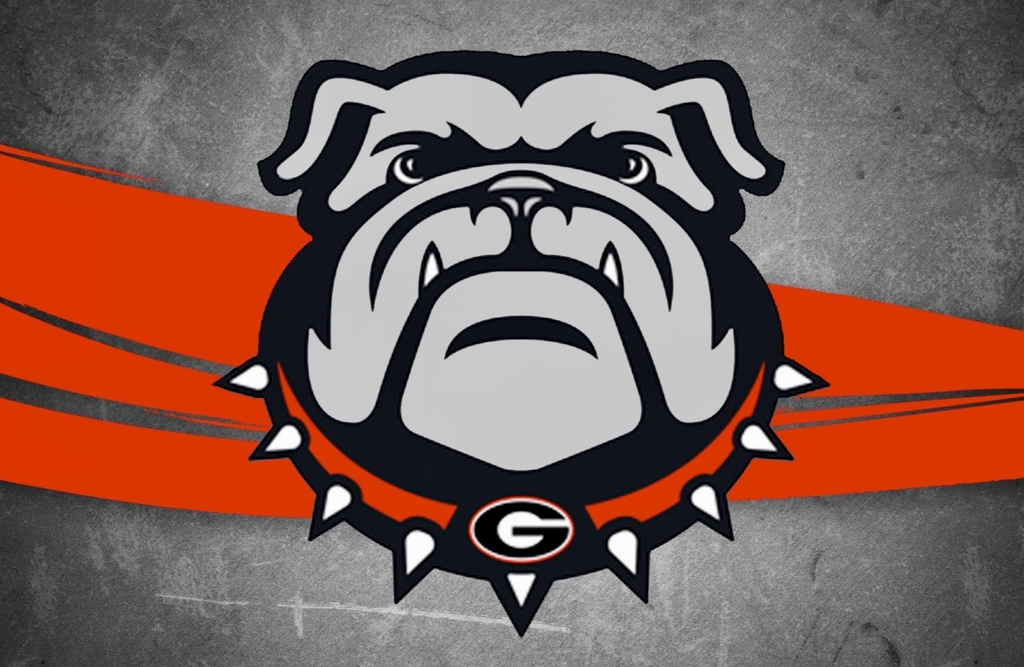 We will celebrate our senior HS basketball, cheerleaders, and scholastic bowl members on February 6th, 2021 in between the JV and Varsity games versus the Hartsburg-Emden Stags. Senior parents will get together at the conclusion of the JV game in the all purpose room. JV game tips off at 5:00PM with varsity game to follow. Go Bulldogs!
Sports Spectator Policy 2021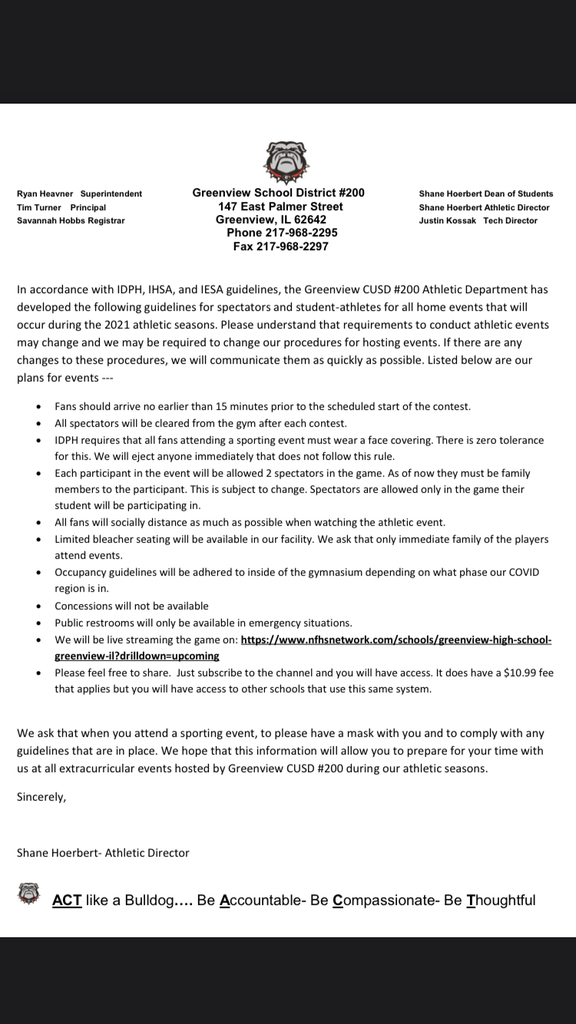 Lunch this week: 02/01/21  Calzones,peas,fruit,milk 02/02/21  Teriyaki chicken,vegetable rice,mixed vegetables,fruit,milk 02/03/21  Cheeseburgers,baked beans,fruit,milk 02/04/21  Cheese filled ravioli in meat sauce,green beans,fruit,milk 02/05/21  Taco pizza bites,romaine lettuce,carrot sticks,fruit,milk

Congratulations to our January Student of the Month, Ryan Dorosheff!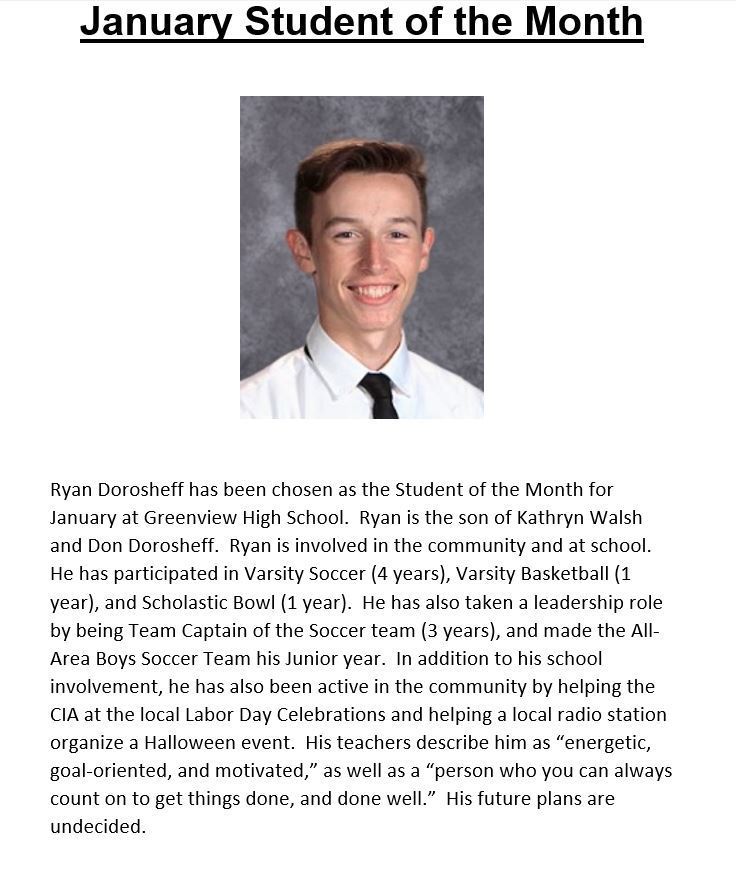 Congratulations to our Honor Roll students for 2nd Quarter! We are extremely proud of our students!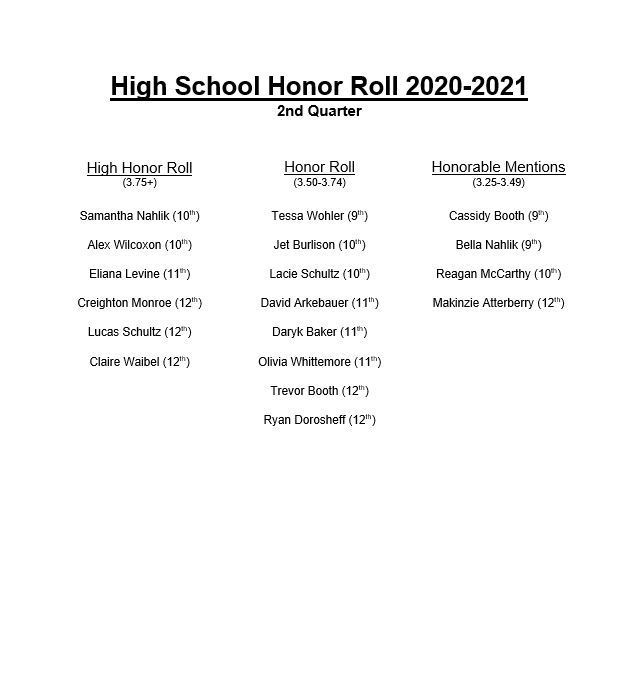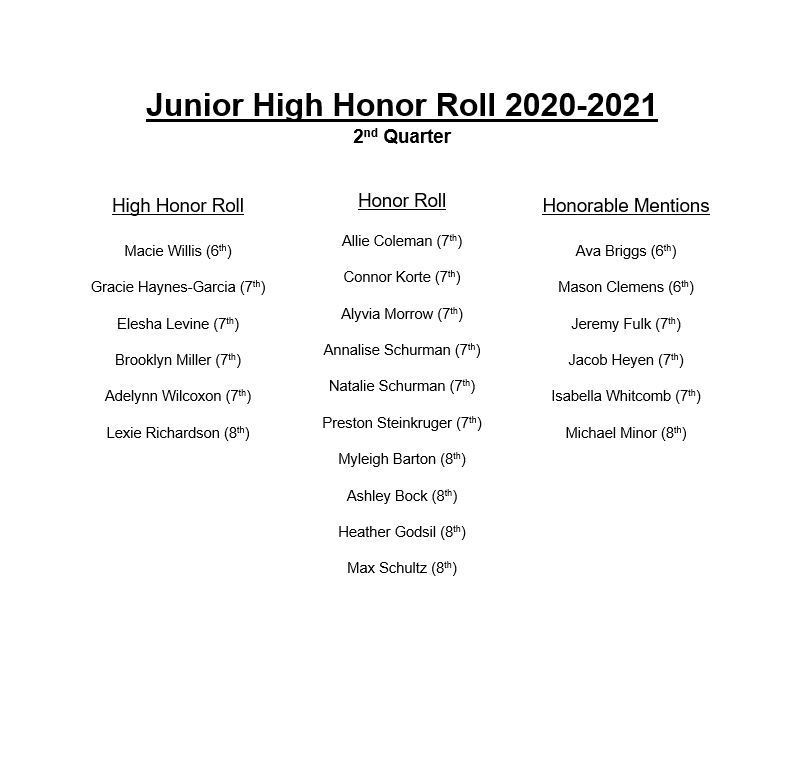 Lunch this week: 01/25 21 Breaded chicken patty on bun,mixed vegetables,fruit,milk 01/26/21 Salisbury steak,mashed potatoes,gravy,fruit,milk 01/27/21 Chicken Alfredo,garlic bread,green beans,fruit,milk 01/28/21 Pulled pork on bun,broccoli with cheese sauce,fruit,milk 01/29/21 Fiestada,refried beans,fruit,milk

We are planning to have school tomorrow, we are monitoring the weather and will not make a decision before tomorrow morning. We need to be in school if we possible as we have missed many in person days this year. We will notify everyone in the morning if there is any news to share.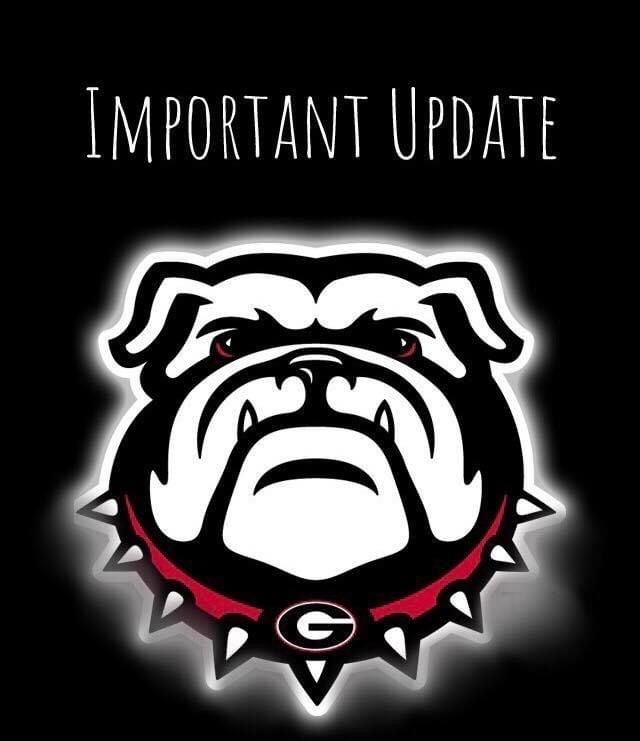 Thank you everyone for a great 100 Days of school! Today was the 100th day of school for the year! This could not have been possible without so many people who have worked so hard to make this happen. Thank you all! Brighter day are ahead!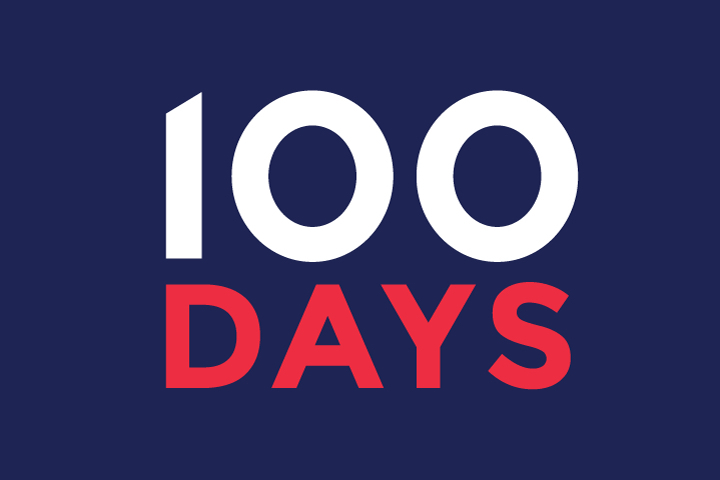 A few important updates: -IDPH has moved our COVID level to tier 4. We anticipate this means we will begin practice for sports soon. We will update everyone as we learn more over the next few days. -We are so proud of how hard everyone has been working at school! Remember to wash masks and charge devices for school. Please make sure to let your students know how much we all appreciate the good attitudes they are showing! Lunch this week- 01/19/21 Chicken nuggets,mashed potatoes,gravy,fruit,milk 01/20/21 Corn dog,pinto beans,fruit,milk 01/21/21 Mr. Rib,green beans,fruit,milk 01/22/21 Crispitos,romaine lettuce,tomatoes,carrot sticks,fruit,milk Keep working hard and let's have another great week! -Mr. Heavner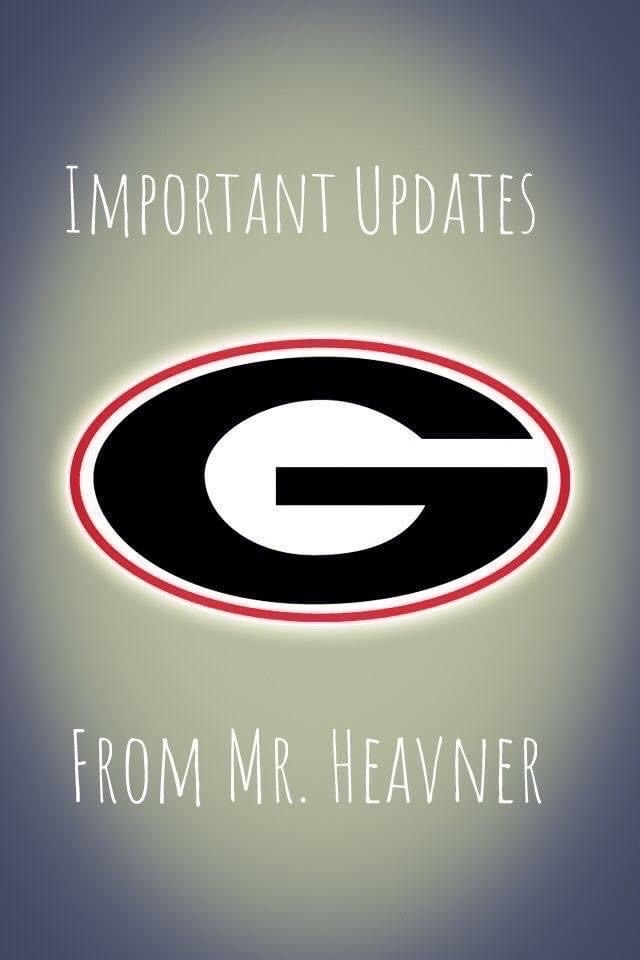 A few important updates: Tomorrow Friday, January 15th school dismisses at 11:30 for a school improvement day. There is no school on Monday, January 18 in honor of Dr. Martin Luther King Jr Day. Elementary students please bring your PE kits back to school next Tuesday. Thank you to Greenview Casey's for the great pizza today! We appreciate everyone working so hard to get back in the groove this week. We are proud of our students and staff! Lunch menu next week: 01/19/21  Chicken nuggets,mashed potatoes,gravy,fruit,milk 01/20/21  Corn dog,pinto beans,fruit,milk 01/21/21  Mr. Rib,green beans,fruit,milk 01/22/21  Crispitos,romaine lettuce,tomatoes,carrot sticks,fruit,milk As always please reach out if we can help!

Tomorrow for lunch we will have Pizza from Greenview Casey's! We had a menu change and thought the kids would enjoy some pizza! Students will be able to select cheese or pepperoni. We are proud of how hard everyone is working this week! Keep up the good work!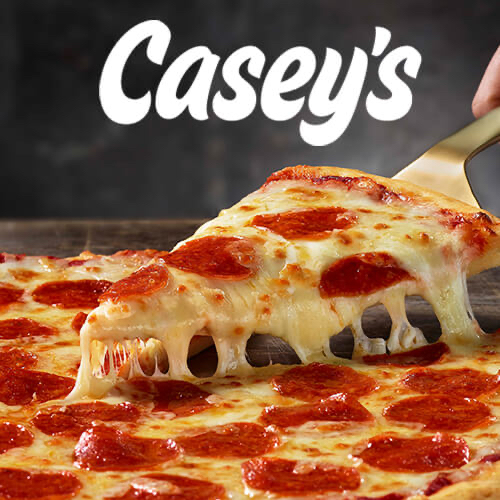 We are excited to get going tomorrow back in person! A few things to remember: -please do not send students to school if a member of the house hold is not feeling well. If one person is ill in a house all students must stay home. Please call the office if you have questions. -Please do not drop students off before 7:50. We will be doing temperature checks every morning at the elementary doors. -Students and staff must wear a mask or face covering to attend school. -breakfast and lunch are still provided at no cost. Lunch this week- 01/11/21 Bosco sticks,marinara sauce,peas,fruit,milk 01/12/21 Meatball subs,cooked carrots,fruit,milk 01/13/21 Lasagna,garlic bread,green beans,fruit,milk 01/14/21 Grilled chicken breast on bun,baked beans,fruit,milk 01/15/21 Early dismissal/no lunch served Please make sure students are dressed warmly as we will take mask breaks outside from time to time. We appreciate everyone working together to make good things happen for our students!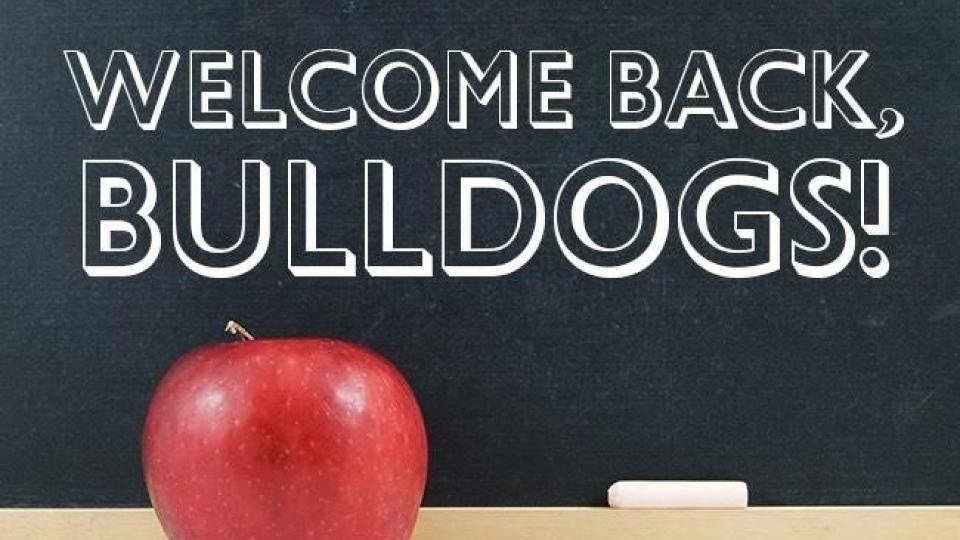 Students will return to campus on Monday, January 11th. COVID levels in our community are at a point we can safely resume on campus instruction. Please remember that if any COVID-19 symptoms are present please do not call school and call the office. We are very excited to get our Bulldogs back in the building! All people coming to the building will continue to enter through the elementary doors and have temperature checks taken. Please do not drop students off before 7:50 for school. Please remind walkers to not arrive at the doors before 7:50. Please contact the office if a student needs help with winter coats, hats or gloves. We have extra if needed. Greenview school will again have lunch and breakfast provided at no cost to students this semester. We are grateful to have this opportunity from the USDA. We are preparing our COVID testing program for staff and students that have symptoms. The program will start in a few weeks and will only be used when families are notified and with the permission of the family. We unfortunately will have limited supply of tests but this will help us keep staff and students at school. Please feel free to contact staff members if you have any questions or need any help on anything. You can email
rheavner@greenviewschools.org
if you need anything this weekend. Have a great weekend!

We have some winter updates for our HS students and families! -Students who would like to change their schedule or have any questions, please contact Mrs. Hobbs (
shobbs@greenviewschools.org
) by January 13. Any students returning to in-person learning this semester will have a printed schedule ready for them when they return to the building January 11. -LTEC applications for the 2021-2022 school year have arrived. Information and applications will be sent to all current Sophomores and Juniors via email. If you are interested in this program, please fill out the application and return to the school. -All Seniors need to continue to check the Senior Google Classroom for updates on scholarships, college/career information, and other miscellaneous updates. -Dual-credit classes at Western Illinois University will begin January 19. Students enrolled in these classes need to continue to check their emails for upcoming information about their classes and books. If there are any questions or concerns, please feel free to reach out to Mrs. Hobbs (
shobbs@greenviewschools.org
), or Mr. Hoerbert (
shoerbert@greenviewschools.org
).

A few important updates: -We are excited to start the 3rd quarter this week! Monday 1/4, and Tuesday 1/5 staff is preparing to reopen school. Wednesday, Thursday and Friday teachers will be in contact with remote learning information. Students will resume on campus learning 1/11 with the same protocols as the fall semester. -If you have had COVID-19 in your home or have someone positive please reach out to the staff. We have to make sure we can follow protocols and want to keep school going once we resume. If students or family members have symptoms please keep them home and contact schools if you have questions. -Lunch delivery resumes tomorrow- if you would like to be added please contact school. There will be no cost for school lunch or breakfast due to a generous program created by USDA. L-Tech students resume class in Lincoln tomorrow. The van will leave same time, if students cannot attend please contact Mr. Heavner. -We have worked so hard this year and look forward to things returning more back to "normal" this spring. Please let us know if we can help in anyway. If you need more immediate help please email
rheavner@greenviewschools.org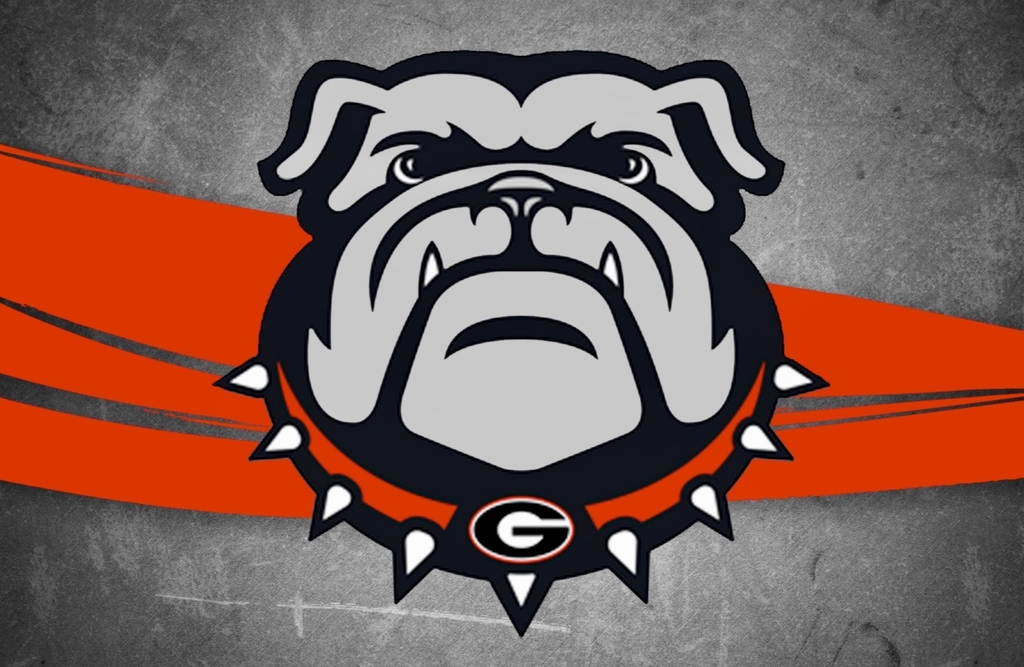 From Paula Rebbe: Just talked to Santa and he has figured out a way to come to Greenview tomorrow Saturday December 19th at 11:00. He will arrive in the fire truck like he does every year. But this year he is going to stay in it. He will go around the park then travel thru town. So if you hear the fire truck in your neighborhood come out and wave at Santa and then he will take one last ride around the park for the year before he goes back to the North Pole. Please social distance and wear masks. Merry Christmas !!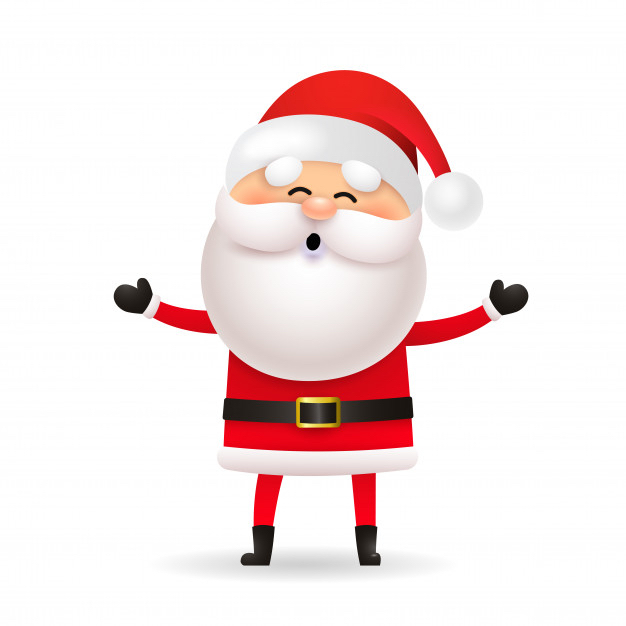 Help us spread the word. We are making some calendar changes when we return. There is also important information in the letter. We will resume in person instruction on Monday, January 11th. Monday January 4th and Tuesday January 5th staff will be working to get students set for classes in the New Year. Wednesday January 6th, Thursday January 7th and Friday January 8th students will work remotely. Remote work to start the year will be communicated by teachers. Please email staff members if you have questions.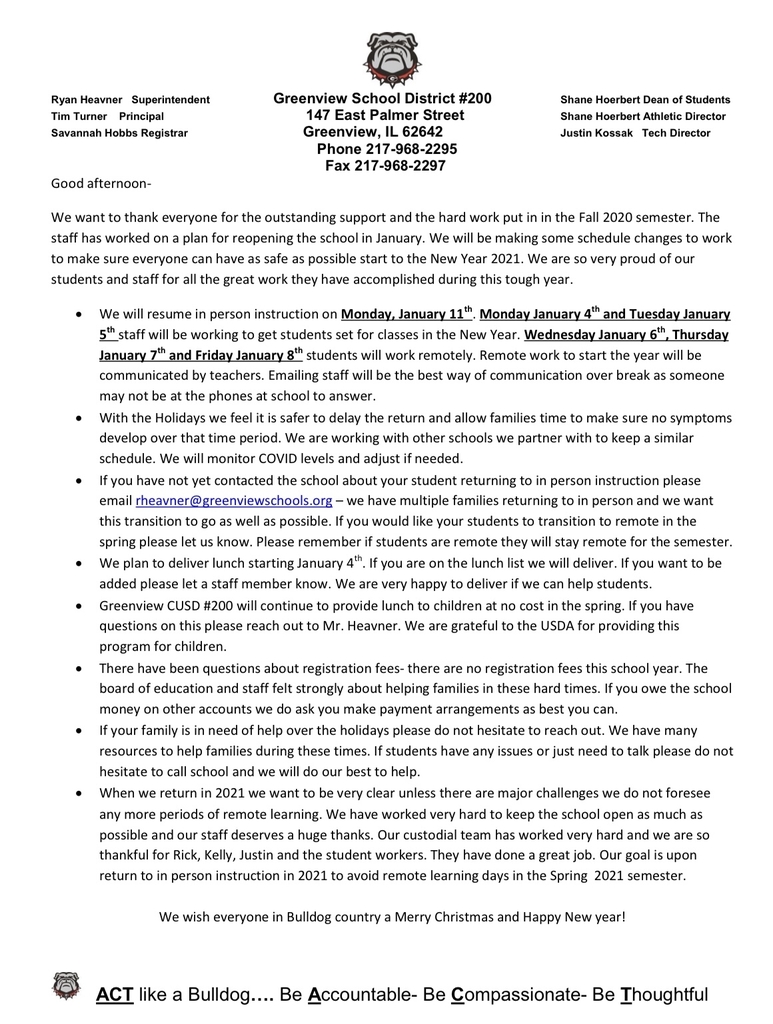 We are loading vehicles to deliver items to homes today. We will be leaving items on at doors of homes. Please make sure you got what you ordered and contact the school if you're missing anything.