Lunch Next Week: 04/11/22 Grilled chicken breast on bun, corn, fruit, milk 04/12/22 Mostaccioli, garlic bread, green beans, fruit, milk 04/13/22 Chicken fajita, refried beans, fruit, milk 04/14/22 Taco pizza bites, romaine, carrot sticks, fruit, milk 04/15/22 No school. First day of spring break.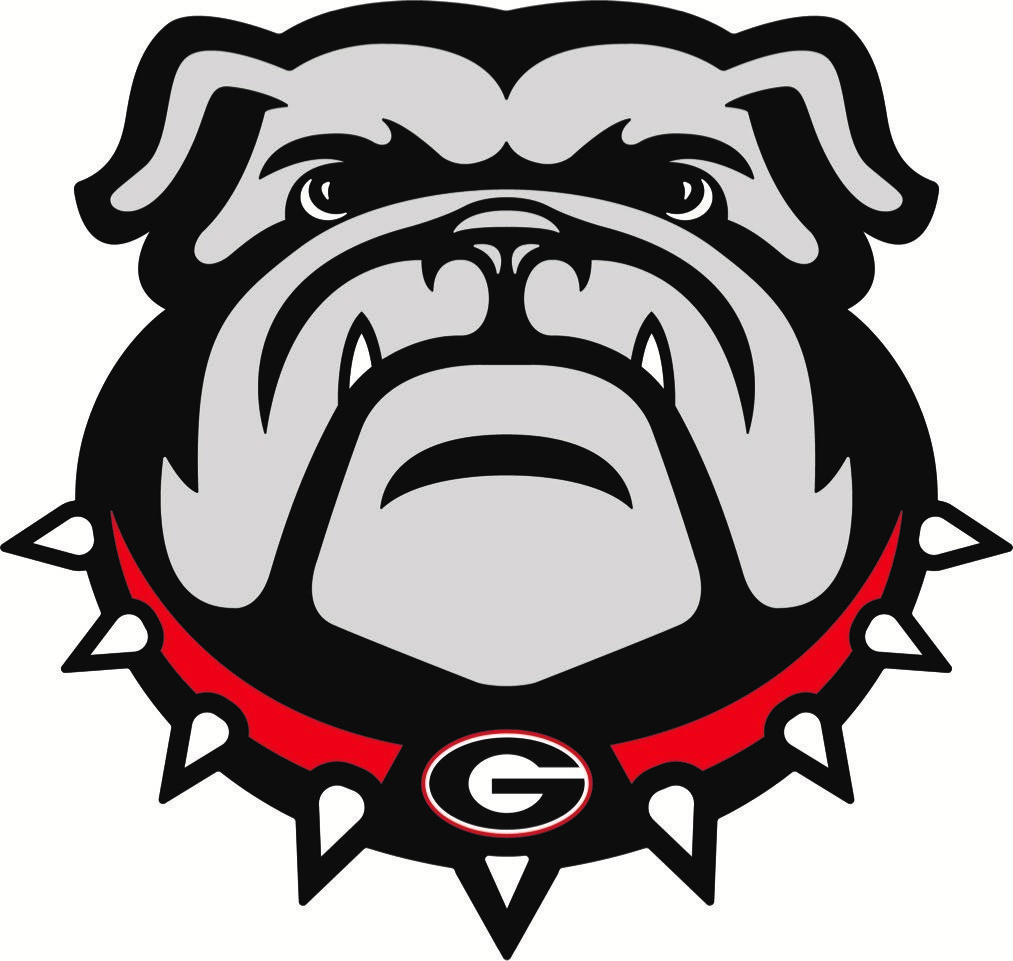 Tomorrow is MLB opening day! Are you a Cardinals, Sox or Cubs fan? Like a different team than the local ones? Do you prefer the Bulldogs? Tomorrow represent your favorite team by wearing clothes to support them! Let's make it a fun day as baseball is back!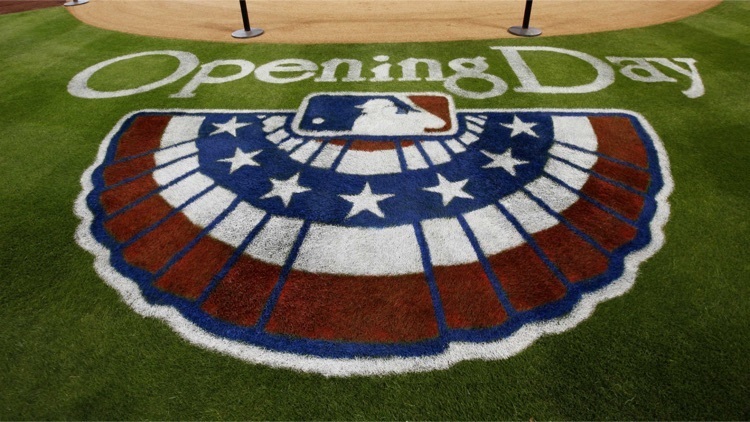 Starting tomorrow Wednesday, April 6th students in grades 6-8 must leave phones or electronic devices other than school issued technology in their lockers if they bring them to school. Cell phones in the Jr High have become a major disruptive force to student learning in GJHS. This includes the students lunch period. Again students in grades 6-8 will not have their phones during the school day. We appreciate the support of families as we move to this rule. If you need your student or have information that is important please feel free to call the office at 217 968 2295. Please do not text or message the student during the day as they won't be able to check their phones. If you have questions please do not hesitate to reach out.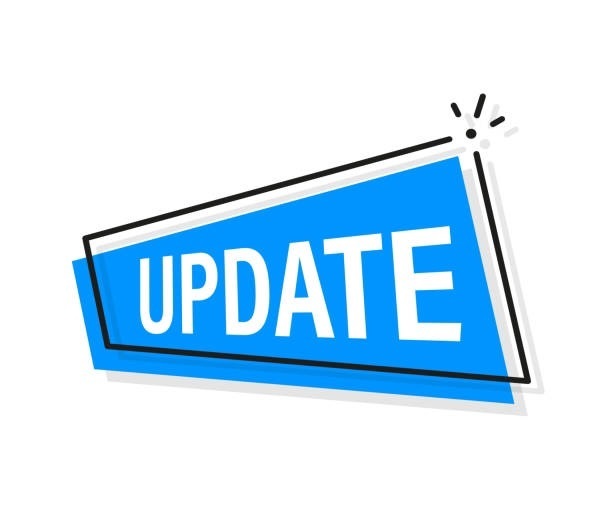 Congratulations to Olivia Whittemore, our April Student of the Month!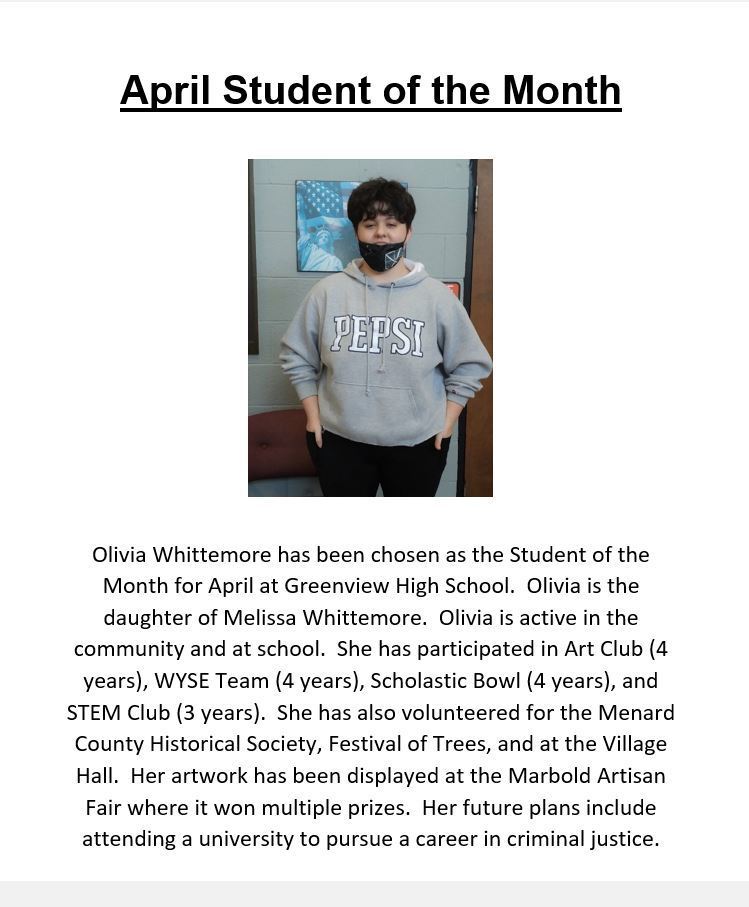 Lunch this week: 03/28/22 SloppyJoe, corn, fruit, milk 03/29/22 Quesadilla, green beans, fruit, milk 03/30/22 Hot dogs, with or without chili sauce,pinto beans, fruit, milk 03/31/22 Bosco sticks, marinara, cooked carrots, fruit, milk 04/01/22 Deep dish cheese pizza, romaine, carrot sticks, fruit, milk

Dawg Pound PTO movie night starts at 6:00 pm in the little gym. Feel free to bring chairs or blankets to sit on this evening. We are looking forward to an awesome time!

Tomorrow Friday March 25th is GHS FFA tractor day! Students will be driving tractors to school and will be arriving around 7:30 am. Please use caution as they will be on the roads coming to school. We look forward to resuming this great Greenview tradition! A reminder tomorrow school dismissal is 11:30 am for a teacher training day.

This Friday March 25th students are dismissed at 11:30 for a school improvement day. This Friday evening the PTO is showing ENCANTO for a fun family evening. The movie starts at 6:00 pm. There is no cost and there will be free pizza, popcorn and drinks. Please email
sheavner@greenviewschools.org
to help us get an accurate count. If you have a student interested in playing baseball or softball this summer and have not signed up yet please message the youth sports page or call school. GYSA needs to start ordering uniforms and buying equipment for the summer activities. High School Art club students please turn in permission trips for the trip by Friday. If anyone needs any food we have some leftover from the food distribution. Please call school if you want would like to pick some up. It will most likely go quick!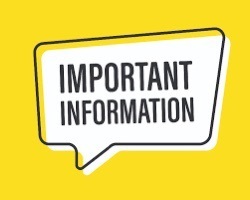 Reminder food pick up at the bus barn 5:30-6:30 this evening for anyone that could use it. We have ground beef, apples, potatoes and eggs.

We will have a food pick tomorrow Wednesday March 23rd from 5:30-6:30 at the shed by the bus barn. We thank Central Illinois Food Bank for the generous donation. This is open to folks that live in Menard, Logan and Mason County. No ID needed for pick up. We will do our best to accommodate as many folks as we can. We can provide each vehicle a supply of food for 3 families. Please contact school if you have any questions.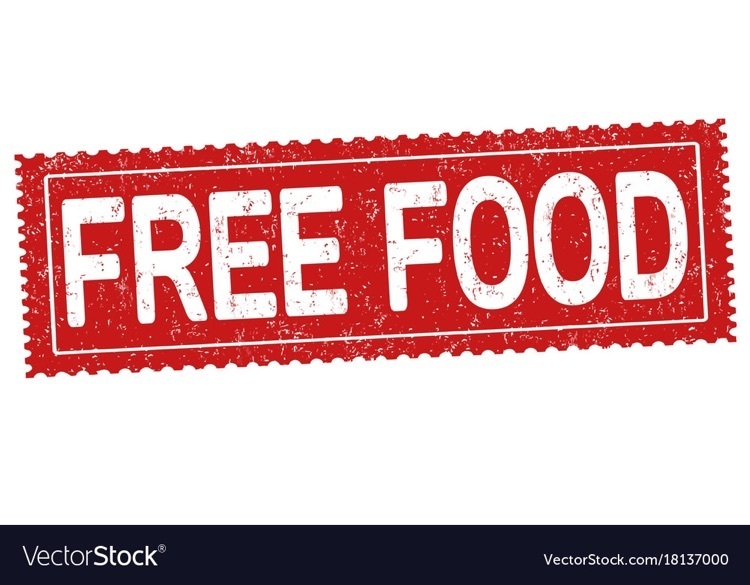 Lunch this week; 03/22/22 Barbecue chicken on bun, sweet potatoes, fruit, milk 03/23/22 Flap sticks, green beans, fruit, milk 03/24/22 Crispitos, romaine, cucumber slices, mixed fruit, milk 03/25/22 Early dismissal. No lunch served.

The Avantis sandwiches have arrived from the art club fundraiser. Mrs. Swaar is passing them out in the high school lobby for those coming to pick their order up. We appreciate all tremendous support of the art club!

We are proud of our students who made 3rd Quarter Honor Roll! Keep up the good work, Bulldogs!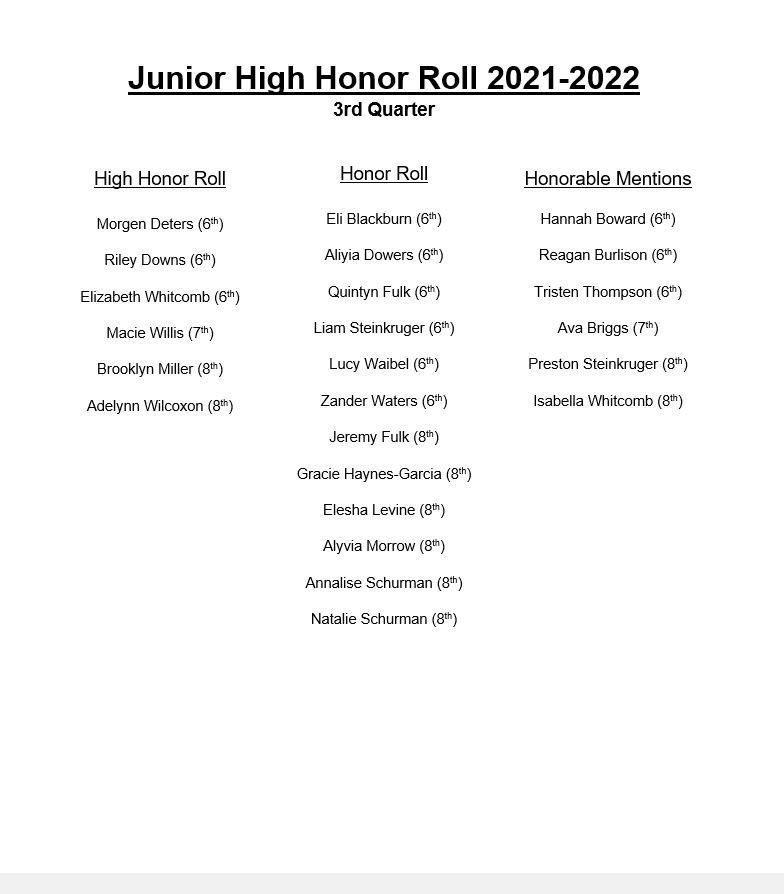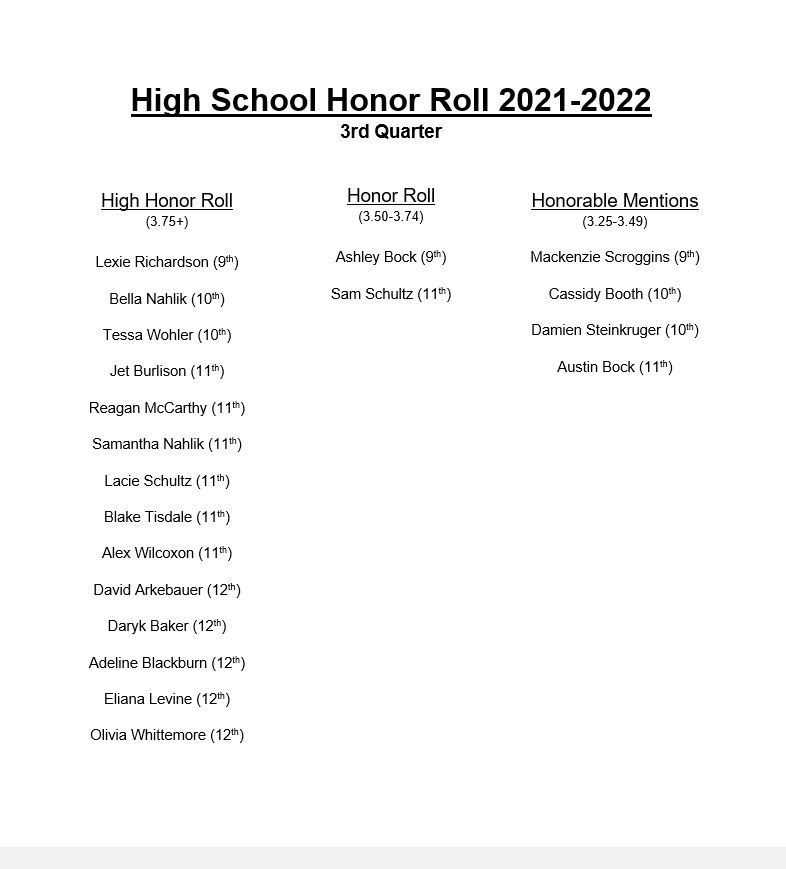 Lunch this week: 03/14/22 Calzones, mixed vegetables, fruit, milk 03/15/22 Cheeseburgers, baked beans, fruit, milk 03/16/22 Chicken nuggets, mashed potatoes, gravy, fruit, milk 03/17/22 Tenderloin, green beans, fruit, milk 03/18/22 Meatball subs, broccoli with cheese sauce, fruit, milk

Letters were sent home to students earlier this month with information regarding our Spring State Assessments. High School Students may leave early on April 13 after the PSAT/SAT if they turn in a signed permission slip before testing. If you need another copy of the letter(s) or permission slip, please reach out to
shobbs@greenviewschools.org
. Thanks! *Elementary Testing Dates • 3rd Grade IAR – March 29-31 & April 5-7 • 4th Grade IAR – March 29-31 & April 5-7 • 5th Grade IAR – March 29-31 & April 5-7 • 5th Grade ISA – March 22 *Junior High Testing Dates • 6th Grade IAR –April 5-7 • 7th Grade IAR – April 5-7 • 8th Grade IAR – April 5-7 • 8th Grade ISA – March 22 *High School Testing Dates • 9th Grade PSAT – April 13 • 10th Grade PSAT – April 13 • 11th Grade SAT – April 13 • 11th Grade ISA – March 23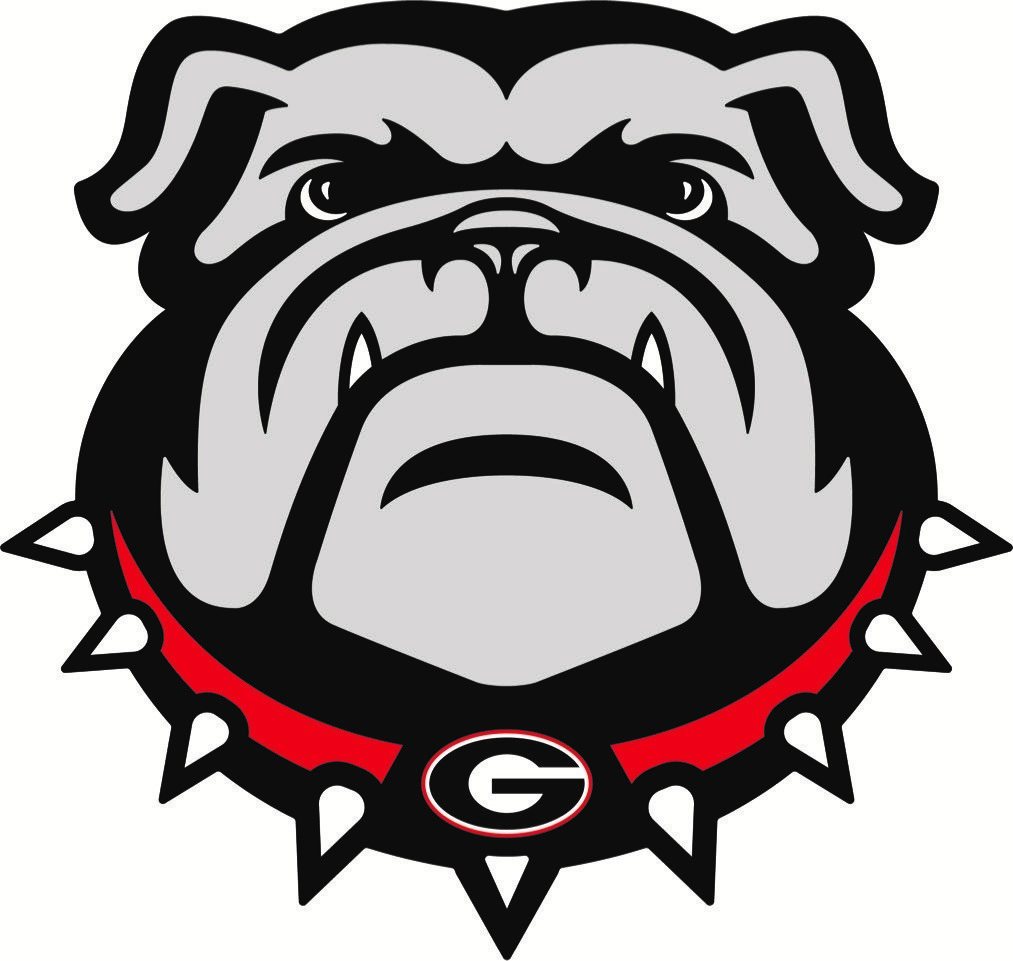 Congratulations to Eliana Levine, our March Student of the Month!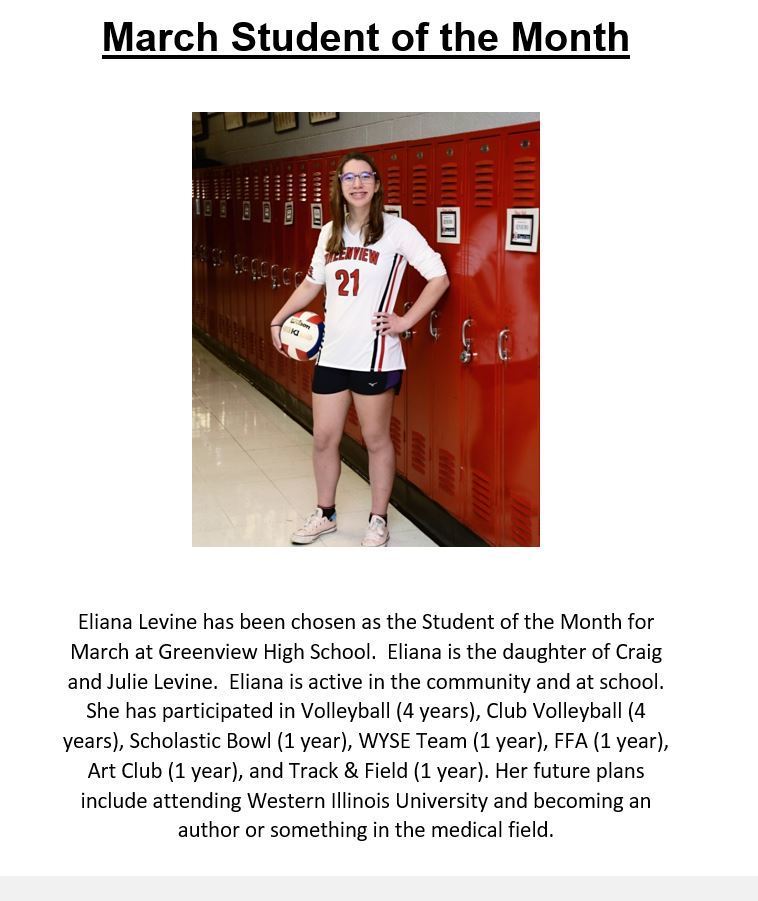 Tomorrow is a red & black day! Everyone should wear red & black to celebrate the 8th grade girls playing tomorrow evening in the regional championship game! The Bulldogs will play at 6:00 pm at home in our gym! Tomorrow we will have a pep rally at 2:45 to honor the young ladies. All community members are welcome to come to school for the rally! Please enter through the elementary doors if you plan to attend!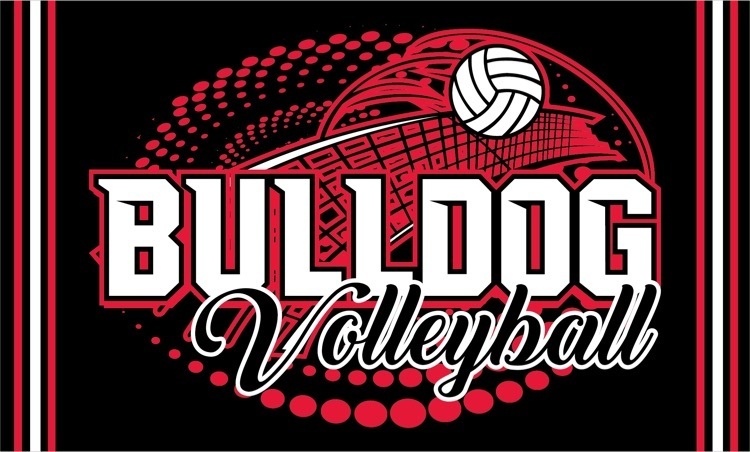 A few updates: Greenview CIA Chocolate Sunday starts today at 2 pm! Come to the school cafeteria for a GREAT family event! No school Monday, March 7th in observance of Casimir Pulaski Day. Our #1 seed Greenview 8th grade volleyball team plays Tuesday evening at home in the Greenview Volleyball regional. The Bulldogs take on St. Agnes at 6:00 pm. Please wear red and black and come out and cheer on this great group of young ladies!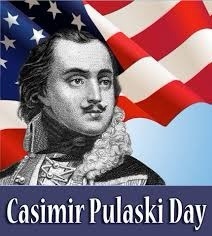 Per CDC updates masks are no longer required on buses or on campus. If people would prefer to continue wearing them they are absolutely welcome to.